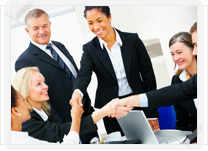 ITEN Softech Solutions Private Limited (ITEN)

is an end to end Engineering Services Provider. The company has been founded by a team of highly experienced and dedicated engineers with long and distinguished careers with the respected names in leading Engineering Services Companies.

This core team of three senior professionals has independently managed multimillion dollar projects across the world.

Our passion for delivering tangible value to the customers in a transparent and cost effective manner gave birth to

ITEN

.

Engagement Models
ITEN offers different engagement models to meet global clients' diverse needs.
Offshore Development Center (ODC)

Dedicated team operates as an extension of the customer's development team. In this model,

ITEN

forms project teams with the required team members, team leads and infrastructure based on client requirements. For such dedicated relationships, we may offer/implement customer specific quality/process frameworks trained for the specific needs of a Client. Detailed Operational level SLAs would be worked out to take care of Schedule and Quality.

Team Based

We form a dedicated team and provide flexible team per project requirements. Working on the particular project, the dedicated team of engineers has a possibility to learn thoroughly clients' requirements and complete them as efficiently as possible. Within the dedicated team,

ITEN

offers flexibility to increase the number of resources as and when the project demands.This approach offers the flexibility to balance team size, project workloads and offers continuous control of time, budget and deliverables.

Fixed Price

ITEN

offers customers a fixed time / fixed price model when the scope and specifications of the project are reasonably clear. Under this low-risk model we work with clients to define expected deliverables and timelines to determine a mutually agreed fixed price. In case of scope changes as the project progresses, we have well-defined delivery & change management process, to review the impact on project schedule, budget and inform our clients any change in the agreed fixed price.

Onsite Staff Augmentation

ITEN

is also engaged in offering clients a wide range of Staff Augmentation services.

ITEN

specializes in the provision of high-end staff to supplement client resources in a variety of technical areas. With our tested values of traditional and new age methods, we are able to resource and retain top candidates for multiple requirements.